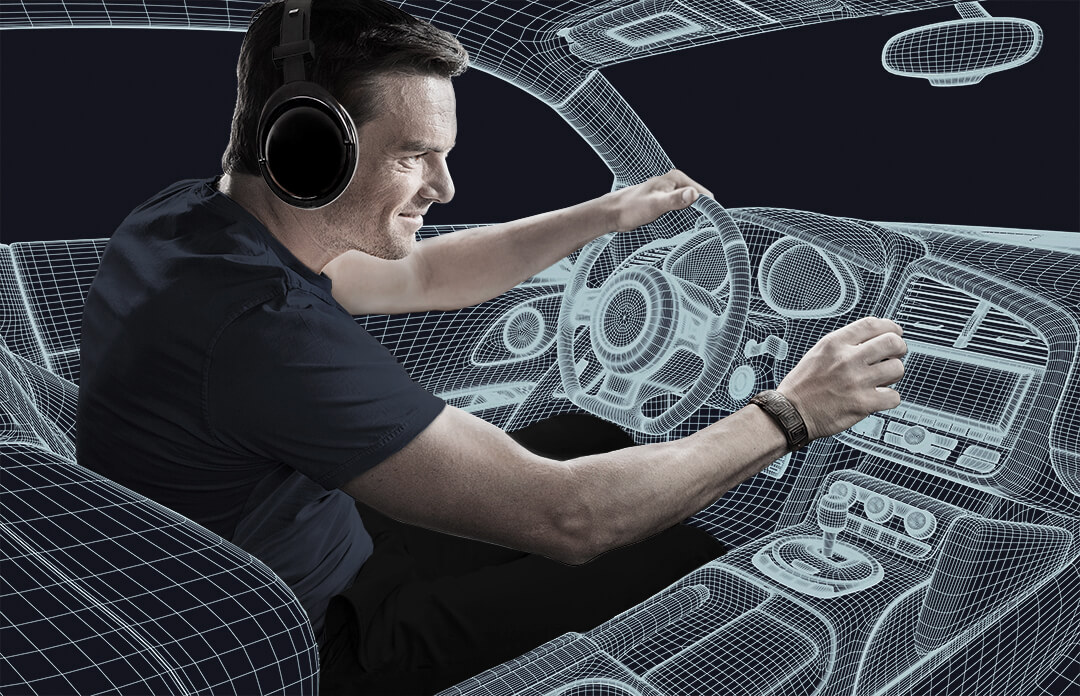 Acoustic vehicle simulation
NVH simulation saves on costs, development times and physical prototypes. During virtual test drives, developers, decision-makers and customers experience the NVH performance of future vehicles. They evaluate variants in an early development phase and safeguard design decisions at an early stage.
For a realistic driving experience, the simulated vehicle must respond to driver interactions in real time. The resulting powertrain, tire-road and wind sounds and vibrations are auralized accordingly.
Special challenges include:
Preparing and combining measured and simulated data (CAE, TPA, active sound design)
Reproducing complex driving models (transmission strategy and energy management for CVT, hybrid, etc.)
Auralizing realistically and without artifacts
Integrating powertrains on the basis of test bench data
Virtual engineering and prototyping
Benchmarking
Comparison of variants
Virtual modification
What-if analysis
Definition of target sounds
Hearing and feeling instead of interpreting diagrams
Experiencing NVH performance
Whether on your desktop or in the dynamic vehicle simulator, our NVH simulator helps you to make sound decisions. It combines binaural technology, calibrated multi-modal playback and advanced auralization algorithms. In addition, it offers interactive sound design tools, multiple interfaces and easy dataset creation. Our many years of experience in NVH extends the range of services with:
NVH measurement technology

Methodological expertise and products for transfer path analysis (TPA)

Dataset creation and other services
No matter how challenging or complex your task: Our experienced engineering team provides the assistance you need. Get an overview over our scope of services or contact us directly.
DO YOU HAVE ANY QUESTIONS?
Our team is ready to support you.
Call us or send an email.