HEAD acoustics at AERO 2019: Cutting-edge solutions for acoustic challenges of the aviation industry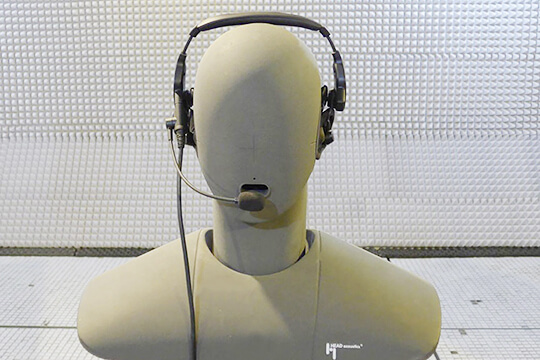 From April 10 to 13 at AERO 2019 in Friedrichshafen, Germany, HEAD acoustics will present its latest products for optimizing the communication quality of aviation headsets. At booth number A6-109 at the global show for general aviation, the company will also showcase solutions for optimal sound design or eliminating noise in the aircraft interior as well as for reducing aircraft noise.

Ensure undisturbed communication
Aviation headsets must enable an undisturbed communication between pilots as well as between pilots and air traffic control. In addition, the headset shall attenuate ambient noise in a way that it does not damage hearing, but maintain the vital acoustic feedback from the aircraft. HEAD acoustics demonstrates with live tests at the booth how aviation headset manufacturers are able to realistically and reproducibly measure their devices and optimize them. For this purpose, the specialist for measurement technology has developed a new database for the communication analysis system ACQUA called HQS-ANC-Headset. HQS-ANC headset is specifically intended to evaluate the ANC (Active Noise Cancelling) performance of headsets. Standard parameters like delay and echo of a headset can also be measured using the test suite. Furthermore, HQS-ANC-Headset provides tests for evaluating the behavior in double-talk situations as well as in the presence of background noise.

Record and reproduce realistic background noise
Testing aviation headsets realistically requires measurements in the presence of background noise. At the AERO 2019, the company will present the microphone array MSA II for this purpose. In combination with HEAD acoustics' simulation system 3PASS, it enables recording and reproduction of realistic three-dimensional background noise scenarios. The microphone positioning of the MSA II is oriented in particular to the requirements in the development and metrological evaluation of ANC headsets. The symmetrical arrangement of the eight microphones allows a high-precision reproduction of the sound fields in the surrounding area of both ears. The fully automated digital equalization with the 3PASS system used in numerous international communication standards ensures that users are able to perform precise and comparable measurements at any time.
---
Documents
HEAD acoustics GmbH is one of the world's leading companies offering holistic solutions for sound and vibration analysis. In the telecom sector, the company enjoys global recognition due to the expertise and pioneering role in the development of hardware and software for the measurement, analysis and optimization of voice and audio quality as well as customer-specific solutions and services. HEAD acoustics' range of services covers sound engineering for technical products, investigation of environmental noise, speech quality engineering as well as consulting, training and support. The medium-sized company from Herzogenrath near Aachen has subsidiaries in China, France, Italy, Japan, South Korea, the UK and the USA as well as numerous sales partners worldwide.
PRESS TEAM
HEAD acoustics GmbH
Ebertstr. 30a
D-52134 Herzogenrath
Germany