HEAD acoustics at the world's leading exhibition for automotive testing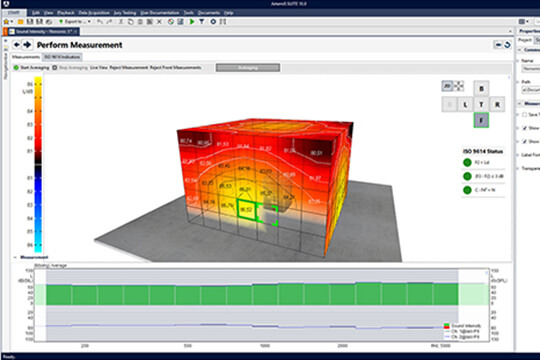 Medium-sized company presents measurement technology in Stuttgart
HEAD acoustics – the expert for sound and vibration analysis, electroacoustics and communication measurement technology – will participate at Automotive Testing Expo Europe in Stuttgart, Germany from June 5 to 7, 2018 and present high-performance measurement technology for NVH and telecommunication in automobiles at booth no. 8366 in hall 8.

Exclusive insight and trend-setting innovations in the field of NVH
Visitors of the leading exhibition for test, evaluation and development procedures in the automotive industry will appreciate pioneering innovations: HEAD acoustics will provide exclusive insight into ArtemiS SUITE 10.0, the software for sound and vibration analysis. With the release in September 2018, the software will also include a tool for sound intensity measurements, which is characterized by its intuitive operation and the gradual guidance of standard ISO 9614-1.
Furthermore, HEAD acoustics will present HEAD VISOR for the localization of sound sources in the automotive sector. Interested visitors are invited to convince themselves of the precision and quality of the recordings in real time, and to experience live binaural recordings, representing the core business of the company.

Measurement technology for optimizing speech and audio in vehicles
Customer requirements for speech and audio quality in vehicles are increasing continuously. Therefore, hands-free systems, in-car communication systems, voice control as well as speech intelligibility of eCall systems have to be tested according to the highest demands. With labCORE, HEAD acoustics is going to present a multi-channel and versatile front-end platform in Stuttgart. Due to its modularity, the wide range of digital and analog inputs and outputs as well as the programmable interfaces, labCORE is the all-in-one solution for voice and audio quality measurements. Another highlight of the front end: Its modular design allows new technologies to be added quickly and easily, thus making labCORE a future-proof solution.
With VoCAS (Voice Control Analysis System), HEAD acoustics will present a turnkey test solution for voice control systems, which can also be used in vehicles. The efficient and flexible software allows for objective and fast quality evaluations of voice control systems, even under realistic and reproducible test conditions.
---
Documents
HEAD acoustics GmbH is one of the world's leading companies offering holistic solutions for sound and vibration analysis. In the telecom sector, the company enjoys global recognition due to the expertise and pioneering role in the development of hardware and software for the measurement, analysis and optimization of voice and audio quality as well as customer-specific solutions and services. HEAD acoustics' range of services covers sound engineering for technical products, investigation of environmental noise, speech quality engineering as well as consulting, training and support. The company from Herzogenrath near Aachen has subsidiaries in China, France, Italy, India, Japan, South Korea, the UK and the USA as well as numerous sales partners worldwide.
PRESS TEAM
HEAD acoustics GmbH
Ebertstr. 30a
D-52134 Herzogenrath
Germany