HEAD acoustics releases software for sound and vibration analysis ArtemiS SUITE 9.2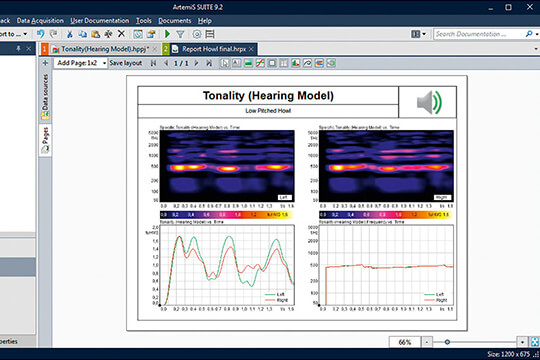 Psychoacoustic analysis Tonality (hearing model) has been implemented
HEAD acoustics GmbH – one of the world's leading companies for holistic acoustic solutions - releases the version 9.2 of the software for sound and vibration analysis Artemis SUITE.
ArtemiS SUITE 9.2 offers many new features: Besides the ability to play back video recordings in sync with the audio channels and the visualization of the driven GPS track on a map, the psychoacoustic analysis Tonality (hearing model) according to Prof. Sottek was integrated.
With the new method, tonal noise components can be identified and evaluated psychoacoustically. For this purpose, a theoretical hearing model based on the physiology of the human ear was developed. This can explain and describe psychoacoustic effects and fundamental auditory impressions. The analysis Tonality can be used to check if, for example, an electric motor produces undesired noise. In addition, the analysis can be used in a noise quality metric to detect tonal noises.
The perception-based method for calculating the tonal character of sounds is submitted for standardization in ECMA-74 and is expected to be included in the fifteenth edition of this standard.

Characteristic of ArtemiS SUITE: High degree of user-friendliness
With the clearly structured Pool Project, selected analyses are performed fast and easily. The Pool Project is ideal for troubleshooting tasks: efficient filters, analyses and statistics functions are ready to solve even challenging tasks with minimal training and setup time.
As an alternative to this interactive work approach, there are two project types available for recurring tasks: Automation Project and Standardized Test Project. Once configured, a complete evaluation including a report as PPTX or PDF is initiated with the push of a button.
Compact Analysis is an ArtemiS SUITE module which is focused on the basic functions and offers an economical alternative. With this module, even occasional users or users needing a lesser "toolbox" are able to conduct fast and easy evaluations.
---
Documents
HEAD acoustics GmbH is one of the world's leading companies offering holistic solutions for sound and vibration analysis. In the telecom sector, the company enjoys global recognition due to the expertise and pioneering role in the development of hardware and software for the measurement, analysis and optimization of voice and audio quality as well as customer-specific solutions and services. HEAD acoustics' range of services covers sound engineering for technical products, investigation of environmental noise, speech quality engineering as well as consulting, training and support. The medium-sized company from Herzogenrath near Aachen has subsidiaries in China, France, Italy, Japan, South Korea, the UK and the USA as well as numerous sales partners worldwide.
PRESS TEAM
HEAD acoustics GmbH
Ebertstr. 30a
D-52134 Herzogenrath
Germany