New artificial head for low noise measurements of ANC headphones and more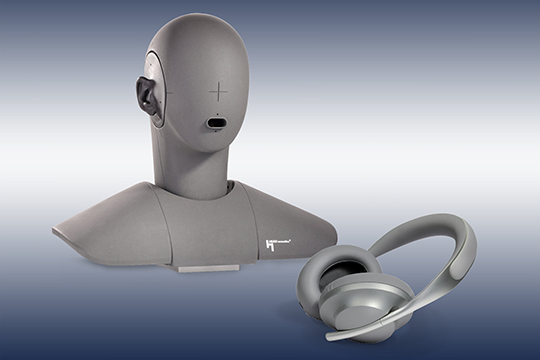 HMS II.3-LN for close to the ear sound sources – Low inherent noise of 16 dBSPL(A)
Measuring very low signal levels like idle noise of Active Noise Cancellation (ANC) headphones requires highly accurate measurement equipment. With HMS II.3-LN (Low Noise), HEAD acoustics is launching a new artificial head that is suitable for low noise measurements of close to the ear sound sources. Ear simulators with highly sensitive microphones assure a very low inherent noise of 16 dBSPL(A) of the binaural artificial head measurement system. Therefore, it is ideally suited to assess the quality of ANC headsets and headphones as well as other close to the ear audio and telecommunication equipment. HMS II.3-LN complies with the international standard ITU-T P.58 and is based on the standards ITU-T P.57 and IEC 60318-4.
"When evaluating the quality of ANC devices, the idle noise should be considered, since this can be disturbing for the user. HMS II.3-LN was specially developed to meet this challenge and is currently the only system on the market that enables precise measurements even at low signal levels", explains Dr. Hans W. Gierlich, Managing Director Telecom at HEAD acoustics.

Also suitable for medium and high level measurements
Due to its maximum sound pressure level of 149 dBSPL HMS II.3-LN is also suitable for medium and high level measurements. The ear simulator covers the complete human hearing range. The new artificial head is equipped with a two-way mouth loudspeaker capable of fullband measurements. The transmission range in sending direction is from 50 Hz to 20 kHz and in receiving direction from 3 Hz to 20 kHz. Like all artificial head measurement systems from HEAD acoustics, HMS II.3-LN can be optimally controlled via the measuring and analysis software ACQUA. The equalization is comfortable and automated.
---
Documents
HEAD acoustics GmbH is one of the world's leading companies offering holistic solutions for sound and vibration analysis. In the telecom sector, the company enjoys global recognition due to the expertise and pioneering role in the development of hardware and software for the measurement, analysis and optimization of voice and audio quality as well as customer-specific solutions and services. HEAD acoustics' range of services covers sound engineering for technical products, investigation of environmental noise, speech quality engineering as well as consulting, training and support. The medium-sized company from Herzogenrath near Aachen has subsidiaries in China, France, Italy, Japan, South Korea, the UK and the USA as well as numerous sales partners worldwide.
PRESS TEAM
HEAD acoustics GmbH
Ebertstr. 30a
D-52134 Herzogenrath
Germany